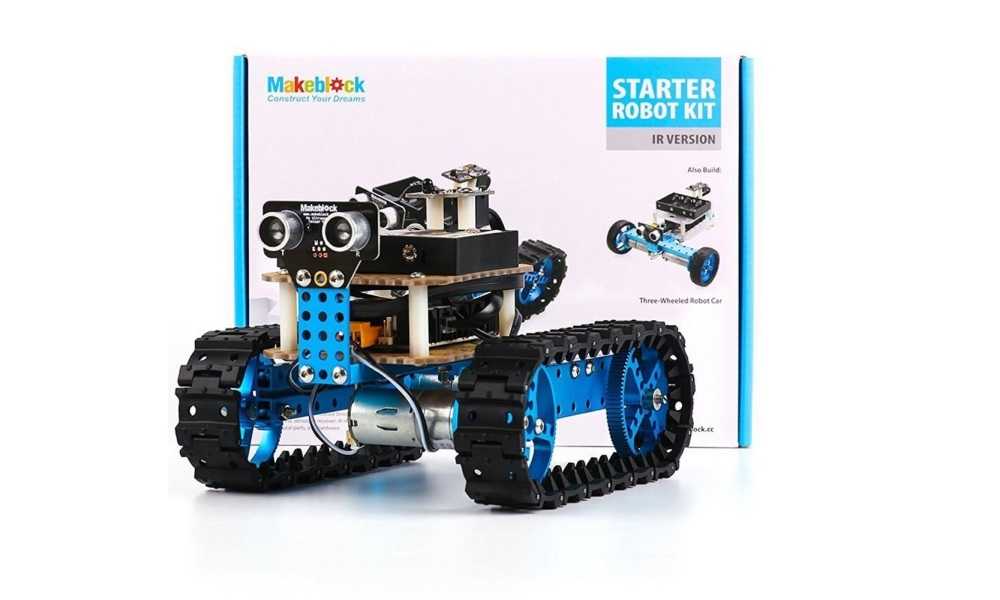 Makeblock DIY Starter Robot Kit Review
Would you like to learn more about robotics and programming but anxious about following instructions? Or are you concerned that buying a starter robot kit can break the bank, so to speak? If so, you should consider buying the Makeblock DIY starter robot kit. This is an open source construction platform that has easy-to-follow instructions plus a budget-friendly price.
Moreover, the Makeblock DIY starter robot kit can let you dip your toes in the waters of robotics. If you've always wonder how robotics works, and you'd like to learn more about this engaging hobby, then this is the product that should be on top of your shopping list.
This starter robot kit is the best choice for people who are willing to explore electronics and robotics. It comes in three versions, with drag and drop visual programming. It is very easy to assemble and control. Plus, the price is very reasonable.
This is a truly plug and play DIY starter robot kit that is highly recommended to adults, teens, and kids who are fascinated with robots.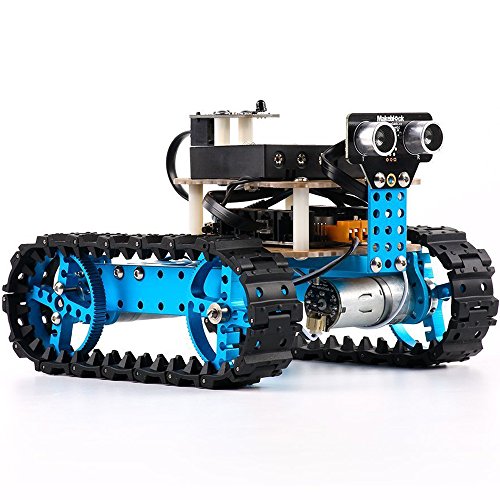 Features
STEM education, which makes it a great choice for beginners willing to learn robotics, electronics, and programming
Drag and drop visual programming
With two robots—a robot tank and a three wheeled, robot car
Easy to control and assemble, with easy wiring and no soldering needed
IR remote controlled
Comes in three versions—Bluetooth, IR, and no electronic versions
Pros
Good, solid construction. The robots are made of sturdy aluminum, with their motors of high torque. Simply put, this isn't a cheap plastic toy that easily breaks.
The printed instructions are very easy to follow; some Amazon.com reviewers say the instructions look a lot like Lego instructions
There are illustrations in the instructions that can guide you in assembling the robot
It works with Arduino so users can share their projects online with other Arduino users
All tools you need are included
No soldering is required
Easy to build – simply connect the modules together to build the robots. Wiring is simple and clear.
It is so easy to build and assemble that even kids would be able to build it on their own
All hardware included in the package are clearly separated so you won't get confused on which part goes where
The price is reasonable/affordable
Cons
There are no AA batteries included; you will have to buy them six of them for yourself
Some users complained of getting defective parts like remote control or motors that won't work
Who it is Best For?
This is a DIY robot kit that is ideal for people who are interested in robotics and programming. While it is more of a beginner's kit, anyone who's been intrigued with robots will likely appreciate this product.
Controlling the twin robots and making them move are so simple that even 3 or 4 year old kids would be able to do them.
Children aged 7 to 9 years old, meanwhile, will find the robots a good toy for self- learning and exploration. Children at this age range will love that they can build different robots from this kit. It would let them use their creativity by exploring the various parts of this kit.
The fact that there's no soldering needed in this product means kids as young as 10 will be able to build their own robots from this kit.
Students who are 10 years and above, meanwhile, can get themselves started in robotics with this starter kit. They can also explore Arduino with this robot, so the chances of them getting 'bored' with this starter kit are very low.
Even adults will be able to appreciate this robot kit. This robot kit has instructions that are very easy to follow. There are lots of reviews on Amazon.com from retirees who said they loved tinkering with this robot kit.
Verdict – Should I Buy It?
If you've always been intrigued by robots and you want to get into robotics and programming someday, then Makeblock DIY Starter Robot Kit is the starter robot kit that you should definitely get.
It is very easy to build and control. Plus, the price is very reasonable. There's no reason why you shouldn't buy this, unless you're bothered by the lack of batteries included in the package.