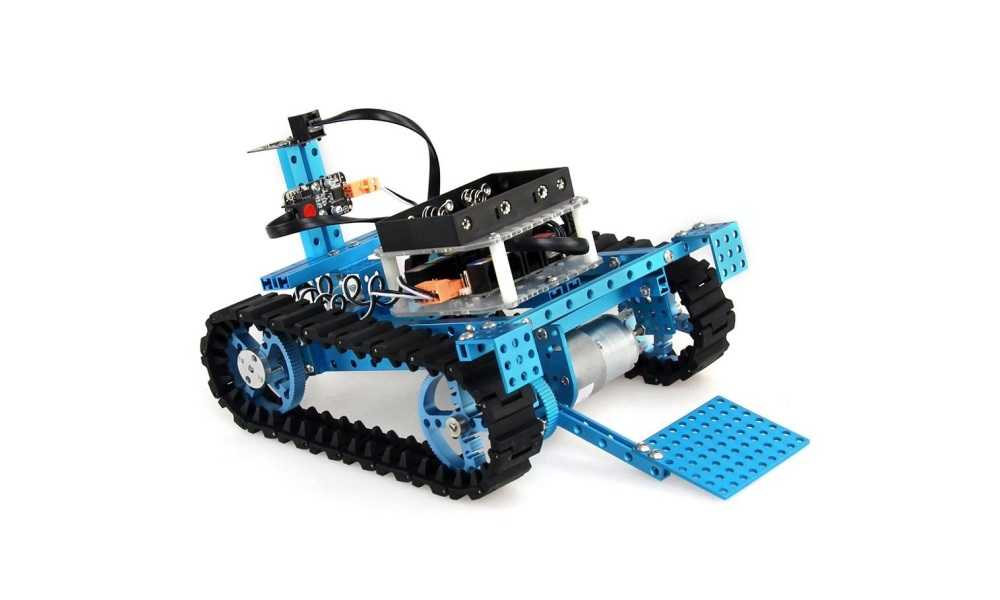 Makeblock Ultimate Arduino Robot Kit Review
Do you have a child who is showing signs of being inclined with robotics and engineering? If so, why don't you get him this Arduino robot kit. This is a great starter kit for children who are fond of robots and programming.
The Makeblock Ultimate Arduino Robot Kit has everything he or she needs to build a robot. It contains metal gear motors, an Arduino compatible controller, various sensors, programmable RGB LED strip, and other mechanical parts.
This kit would enable your child to get started on Arduino and Scratch programming. And because it is Bluetooth compatible, he or she can control the robot using a smartphone or tablet.
This robot toy is powered by six AA batteries, which aren't included in the product package.
This robot can shift into 10 modes. It can be a robotic arm tank or an attack tank. It can shift into a robot tank, a sumo tank, or a triangular tank.
It can also transform into a skill racing car, a drink car, or a ball launcher. And it can shift into a forklift or a three wheeled car. With so many modes that the robot can transform into, your children will surely be in awe with it.
Simply put it, you can help your child unlock his hidden talent for building robots if and when you get him this robot kit.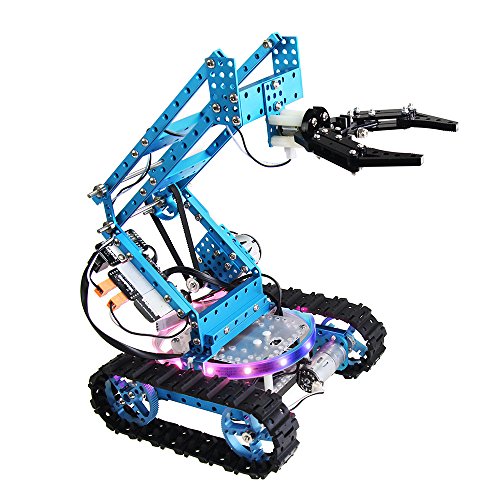 Features
Aluminum extrusion structure
Bluetooth capable
Easy wiring with no soldering required
Kit allows users to build more than 10 robotic projects
Pros
It is easy for children to build this robot
It has a very reasonable price tag
It feels so sturdy and solid that it won't easily break unlike other cheap toys in the market
The main body is made of solid, anodized aluminum which feels sturdy and solid for most users
It can transform into 10 modes that children will find interesting
The assembly instructions are in diagrams thus children will be able to follow them easily in putting together this robot
Easy assembly which requires no special tools
The programming software developed by mBLock based on Scratch 2.0 is also very easy to learn as it is basically a drag-and-drop type
With the programming software, children won't have to get confused with difficult coding
Children will be able to easily control the robot and make it transform to various functions with the Bluetooth feature
The Makeblock website has enough information, from assembly instructions to FAQs to guide parents and children in assembling this robot toy
The toy presents a good way for children to get started on Arduino, an open source electronic prototyping platform. This could prove to be the toy that can get your child hooked on robotics and programming.
Relatively few parts so the chance of small pieces getting lost is very slim
Cons
There are no batteries included in the package; you need to buy them
Not ideal for small children
Who is It For?
This ultimate Arduino robot kit aluminium open source DIY maker is best suited for children who are older than 8 years old. While the programming software of this robot is relatively easy to manipulate or control, it may be something that children aged 6 or younger may find complex or difficult to understand.
This is also a good robot kit for teenagers and even adults who are fascinated with robots. They can easily build the robot by following the simple instructions included in the product package. Or they can go to Makeblock's website to know more how to build this robot.
Verdict- Should You Buy It?
If you have a child who's 8 years old and has shown a lot of interest in robots and programming, then you should definitely get him or her the Makeblock Ultimate Arduino Robot Kit aluminium open source DIY maker.
This robot kit is perhaps the best toy for the budding engineer or scientist. With simple and easy-to-follow programming, and a robot that can transform into 10 modes, this robot kit can capture your child's imagination and harness the young inventor in him.