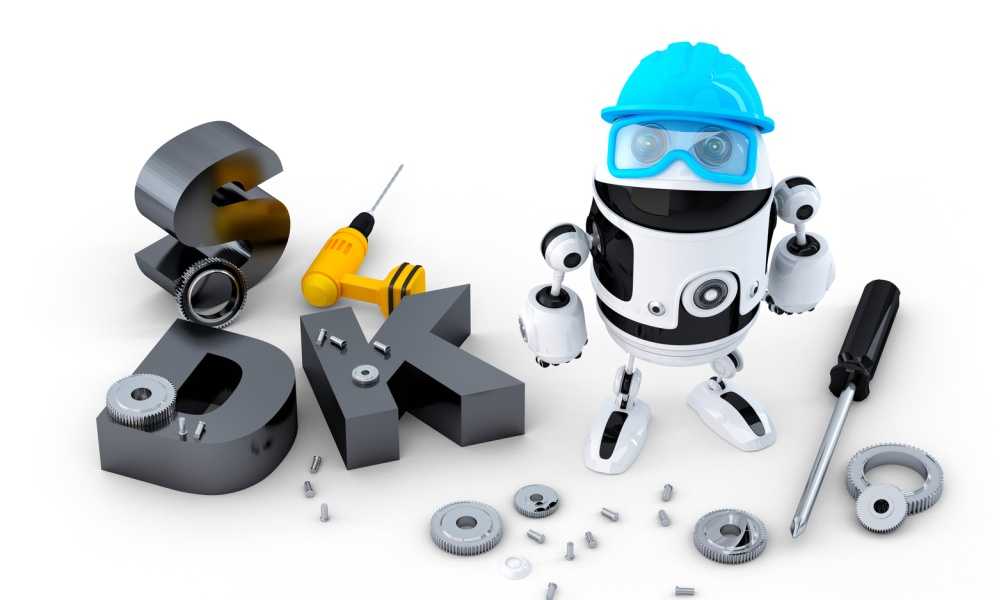 OWI Robotic Arm Edge Review
Are you looking for a gift for your child who's shown an interest in robotics? Is your teenage son or daughter very much into electronics? Or are you interested in robots that you would want to build your own? Then you should consider getting the OWI Robotic Arm Edge.
This is an intermediate robot kit from OWI Robotics. OWI is a reputable line of educational robotic kits. This kit can get you or your child started in basic robotics, electronics, and mechanics.
Don't worry, as this robot  kit is relatively easy to assemble.  It helps if you or your child has some background in electronics, but still, you should be able to follow the user's manual well. Most reviews online suggest that this robotic arm can be assembled in a few
The robotic arm gripper closes and opens. It can lift light weight items weighing 100 grams below, like an empty can of soda and a big screwdriver. You can also expand the capabilities of this robot with a USB interface cable and software, which is not included in the package.
And don't worry about the price, as this is relatively affordable. You should be able to have hours of fun with this robotic arm.  And your child can get started on the basics of robotics, which would bode well for your future engineer or programmer.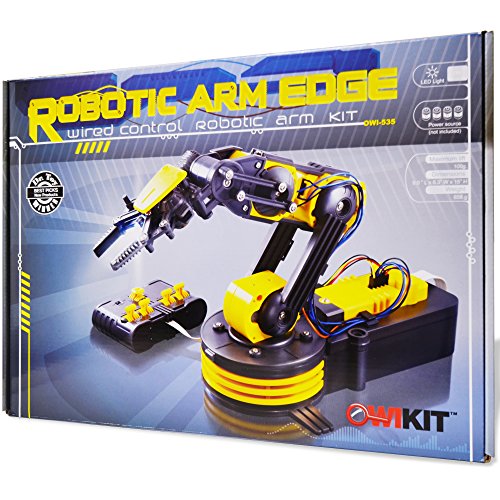 Features
Robotic arm gripper that closes and opens
Measures 6.3 x 15 x 9 inches
With wrist motion of 120 degrees, elbow range of 300 degrees, base rotation of 270 degrees and base motion of 180 degrees
Recommended for children aged 10 years up
Search light design on the gripper and audible safety gear indicator
No soldering required
Powered by D batteries
Pros
Very reasonably priced
Relatively easy to build, especially for those who have some background in robotics and electronics
Teaches kids the basics of robotics and programming
Ideal for the mechanical-minded child
Great building project for kids
Its instructions are relatively easy to follow
While the parts are made of plastic, all pieces are very well made and strong
It is expandable
The gripper is very strong and doesn't easily break
Nigh time play is possible with this kit
There are many tutorials online that users can refer to in connecting this device to an Arduino controller
It can prevent potential injury or gear breakage with its features like audible safety gear indicator
Cons
The remote control has buttons that are hard to push for some kids
There is no DC adapter
You would need some tools for assembling it like Phillips screwdriver, needle nose pliers, and small file
There are some parts which look very similar to each other; so you have to be careful in organizing all the parts first before you begin assembling it
The battery compartment is hard to open once you close it
It has no sensors so there's a chance that you could break it if you push it beyond its range of motion
Comparison
There are many robot kits that can be compared with the OWI Robotic arm edge, like the OWI Hydraulic Arm edge. Both robot arms have a gripper that can open and close, with wrists, base, and elbows that can rotate as well. Both robots are also easy to assemble, capable of lifting small items, and have very reasonable price tags.
However, the OWI Hydraulic Arm Edge doesn't require batteries or electricity to move unlike the OWI Robotic Arm edge as it makes use of hydro mechanical technology to move.
Another product that is very similar to the OWI Hydraulic Arm Edge is the MeArm DIY Robot Arm Kit With MeCon Pro Motion Control Software and Arduino Source Code. Both are robotic arms that can lift small items like spoons and empty soda cans. Both are also educational toys that can teach children the basics of robotics and programming.
However, the MeArm DIY Robot Arm Kit With MeCon Pro Motion Control Software and Arduino Source Code isn't the easiest to build. A lot of reviews on Amazon.com indicate that the instructions of the said kit are vague and difficult to follow. The said kit also has pieces that are said to be of poor quality or easily gets damaged.
Verdict
Simply put, the OWI robotic arm edge is a highly recommended, intermediate robot kit for children aged 10 years and above. This is a great robot kit for children, teens, and even adults who have an interest in robots and electronics, and would want to build their own robots.
It is relatively easy to assemble, especially for those who have some background in electronics. It is also fun to play with, particularly for children. And adults won't think twice parting with their hard-earned money for this robot kit as it is very reasonably priced.