DFRobot Devastator Tank Mobile Platform Review
Playing with robots is an activity that is not only enjoyed by kids. Even adults love it. If you are one of those grown-ups who are fond of robots, then you might have dreamt of building your own machine. The DFRobot Devastator Tank mobile platform is one robot toy that must be in your shopping list.
This isn't a robot toy that you usually find in toy stores, though. It is made of high strength aluminum alloy, making it very strong, sturdy, and durable. It can move quickly and easily with its high speed motor and premium tracks. It won't have any problem dealing with the toughest terrains with its high performance suspension.
What's more, you can experiment with this robot. You can add sensors, turntables, or controllers with this platform. You'll definitely have a lot of fun with the Devastator tank mobile.
Assembling this tank mobile platform should not pose a lot of problems as well. It is very easy to assemble, with most reviewers on Amazon.com saying they were able to do so in an hour or so. Besides, there is an easy-to-follow instruction manual that you can refer to in putting together the robot.
This is a robot that may also be a good present to hobbyists, and students. It can also be used for competitions and research projects.
Children aged 12 years old and below may find it difficult to operate and assemble, though.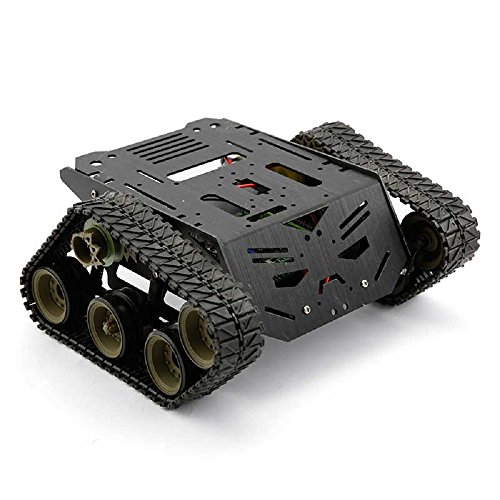 Features
Size: 8.86 x 8.55 x4.25 inches
Weight: 780 grams
Maximum speed: 36 cm/second
Compatible with most popular controllers like Arduino and Raspberry Pi
Motor: MicroDC geared motor with Back shaft
Working voltage: 3-8V DC
Pros
It is fully expandable as you can add various sensors, turntables, and controllers
It has multiple mounting holes so you can install various add-ons to it
It has an easy to follow instruction manual
The body is made of anodized and brushed aluminum
It is very sturdy and strong
All parts came in plastic bags and clearly labeled
The instruction manual is very detailed/thorough
The bushings where the screws pass were threaded; not just empty holes. This goes to show how well designed this tank mobile platform is
The tank is fairly big at around 9 inches wide and 4.5 inches tall
The treads of the tank are made of hard plastic, which won't easily break or wear out
The tank looks cool and menacing
The motor works well, quietly and efficiently in moving the tank
There are lots of pre-drilled holes and slots that make it easy to attach various accessories
Very affordable
Cons
No Bluetooth or Wi-Fi connection
Some Amazon.com reviewers have reported minor electronic parts that won't work
It needs an oddly sized metric nut driver, which unfortunately is not included in the package
Wiring is not pre-assembled, so you would have to do some soldering
More soldering needed to fix the lack of standard connectors for 7.4V RC batteries
Comparison
There are other robot tanks that are similar to the design of this DFRobot Devastator, like the Kuman Sm5 Th Wireless Wifi Robot Car Kit for Arduino,utility Vehicle Intelligent Robotics, Hd Camera Ds Robot Smart Educational Robot Kit for Kids.
However, the said Kuman robot tank is a lot expensive if you compare it with the DFRobot Devastator. But the Kuman robot tank is also a good choice for a starter kit as it is easy to assemble, plus it has a WiFi connection that lets users control it with their smartphones or tablets.
While the Kuman robot tank is made of solid stainless steel, a common concern among its users is that there are lots of razor-sharp edges that can cause cuts when assembling the robot.
Another similar product is the Makerfire Arduino FPV Robot Car Kit Wifi Utility Intelligent Vehicle Robotics HD Camera Wireless Controls with Anroid IOS PC. Like the two other robot tanks, it is a good starter kit. It can teach its users Arduino programming, and like the Kuman robot tank, is Wi-Fi compatible.
However, the Makerfire Arduino PFV robot car kit is quite expensive when you compare it to the DFRobot Devastator. There are also complaints about the build quality of the robot car kit.
Conclusion
In summary, the DFRobot Devastator Tank Mobile Platform is one affordable, easy to assemble, and highly engaging robot kit that you must consider buying. This is an expandable robot tank that can get you started on robotics.
While there are lots of robot toys that are similar to the DFRobot Devastator, it is hard to deny that this one is budget-friendly. Plus, you can be assured of its build quality. And finally, the Devastator is very easy to assemble.
If you are a hobbyist, a toy collector, or simply someone fascinated with robots, the DFRobot Devastator is something you should get.